Selene Dragomir
Race: Dracian | Breed: Earth Dracian| Vagabond
☾ ...mirror, mirror  on the wall... ☾Gender:
Female
Age:
200, looks 18
Birth Season:
Fall
Height:
5'4"
Weight:
100
Length:
None
Voice:
Soft-spoken
Scent:
Brimstone
Alignment:
Neutral
Father:
Deceased
Mother:
Deceased
Mate/Partner:
 Ragnar'k (partner, friend)
Children:
None
☼ Ragnar'k, the stone dragon of A'loa Glen ☼
Stretches longer than the length of six men
Lightning, Water, Wind, Fire and Aether
**Using his power takes an extreme toll on Ragnar'k and also debilitates Selene. It forces the dragon to retreat into Selene's body to recuperate, causing the girl extreme amounts of pain, often times it is crippling. **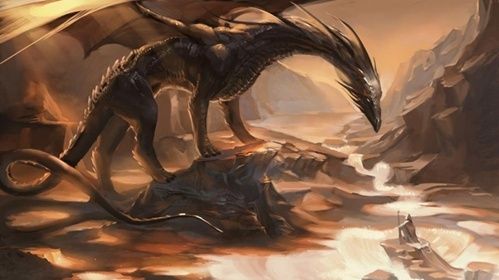 Adult/Full length Ragnar'k
Over 32 feet in length, over 20 feet in height.
Ability to revert to younger version, making travel easier.
Protective of his Bloodrider
Ageless
Able to change coloration
Natural color is black and red
❇ ...tools of the trade... ❇
Contortionist
Elemental - Earth Magic-
Minimal Fire, Lightning, Wind and Water control
Entertainer
Dragon Tamer
Sorceress
Weapons - Sais -
Shape-shifting
Glowing scale-like quality under moonlight
Cross-shaped scar between shoulder blades
The Nest
During the great Dragon wars, riders and mounts took to the sky fighting for the control of the elements. None would survive the devastation, the Dragons would soon die out as less and less Bloodriders were born. The last to go were the Sun and Moon dragons, children birthed from the everlasting planets, bred, nourished and brought to life by the earth.
A nest long abandoned with stones of silver and blue as big as the foot of a troll. Only one egg remained intact, the rest had shattered and blood trails led to carcasses of small hatchlings.
The last of its kind.
The Bloodrider
A sickly child, a pauper, entertainer and wielder of wild magicks; the last of her kind.
The Bloodriders had all but died out, the only hope also fading to black when Selene Dragomir was born with cancerous boils. A mutation and soon to be an outcast. Old enough to fend for herself, with enough life to spend one last winter surviving in order to find death in the following Summer; she was left out in the woods. Close to the caves of trolls and ogres, of wyverns and mountain lions. A treacherous place for a child, expected to live no more than the night's length.
Stumbling through the darkness with a cough wracking her body, bones rattling and breaking easily, painfully she'd found a cave to spend the night in. After the fire had been built and the moon had risen high, the light of the stars glinting off a pretty rock higher up on an outcropping of the mountain. Curious and quiet, at death's doorstep Selene climbed; knuckles bleeding and knees scraped, blood trickling from her mouth, at the brink of death.
She found the dragon's egg.
Unity
Ragnar'k knew nothing but cold and darkness, his body barely sustained by the light of the moon. Tonight would be his last breath. Tired of fighting, of searching for a warmth that would never come; the sound of a heartbeat and the beat of wings he'd missed since his conception. It was a surprise to find a sudden flare of heat and the slowing rhythmic beating of a heart he'd never known but would have known regardless of time and space.
She had arrived. Ragnar'k stirred and broke through the thick shell with his weak beak.
A sickly thing, pale and beautiful as the moon and no hair on her round head. Her skin translucent, see-through. She was dying just as he was, barely able to reach out to his stumbling figure as he flopped and flailed, trembling and crawling to curl into her chest.
Touch.
His body melded into hers, the color fading from her brown eyes. She was dying. He was dying. They had to become one.
Even as a hatchling he shared his heart with her.
Selene.
Bloodrider.
Enigma.
Unity.